Abstract:-

Religious Pluralism and Inter-religious Friendship in Los Angeles This article surveys the history of the various faiths found in Los Angeles, US, and stresses that historically the city has been able to negotiate commonalities among differences. Successfully overcoming the difficult legacy of American slavery and the anti-Asian sentiment, most neighbourhoods in Los Angles are now ethnically and culturally diverse. An array of faiths from Christian, Muslim, Hindu, Jain, Buddhist as well as the myriad 'convert communities' engaging in alternative forms of spiritual practice have contributed to the multicultural ethos of the city. This essay shows how coexistence of multiple faiths has helped the move from passive toleration to a culture of active appreciation of divergences and different faith traditions. One of the results of this diversity and plurality of religious traditions has been the emergence of robust intra-faith and interfaith conversations. The appreciation of diversity has helped the move towards freedom and dignity as the ultimate goal of humankind.
INTRODUCTION: LAND DEDICATION
The City of Los Angeles took shape when imperial Spanish settlers came north from Mexico City on September 4, 1781. They lived alongside Shoshone-speaking Tongva who had moved to the area from Wyoming some 800 years earlier. Forty years later the region became part of the newly liberated Mexico. In 1848, California became part of the United States. Significant growth in Los Angeles began in the 1890s with the discovery of oil. In 1890, the estimated population of Los Angeles County was 100,000. Water imported via viaduct from the Sierra Mountains in 1913 supported agriculture and urbanization. By 2020, the county's population had grown to 10,000,000, a hundred-fold increase.
Linguistic and presumably religious diversity has been part of Los Angeles since before European contact: one account has stated that all different linguistic groups representing the 500 distinct languages in North America could be heard in California. Trade was extensive, with items from the Channel Islands being found as far away as Texas. Today, Los Angeles County is home to the largest number of Native Americans in the U.S.
Ethnic diversity abounds in modern L.A., home to more Persians than any other city outside Iran, the second largest number of Mexicans outside Mexico City, with similar data for Koreans, Southeast Asians, Salvadorans, Canadians, and many other nationalities and ethnicities. With this diversity comes an abundance of religious practices and institutions. This short essay highlights select religious communities with images captured from their own websites in 2019.
Los Angeles County cradles Santa Monica Bay. The mountains of Malibu border the north of the Bay, with the Palos Verdes Peninsula to the south. Several mountain ranges extend from west to east: Santa Monica, Santa Susana, Verdugo, San Gabriel, and San Bernardino. The vast Mohave and Sonora deserts extend beyond the boundaries of the county, all the way to the Colorado River, the boundary with Arizona. European settlement began in the 18th century with the establishment of Franciscan missions and Mexican pueblos (towns). Due to disease, vast numbers of indigenous Tongva perished in the early years of contact.
City of Los Angeles facing northward toward the Santa Monica and San Gabriel Mountains.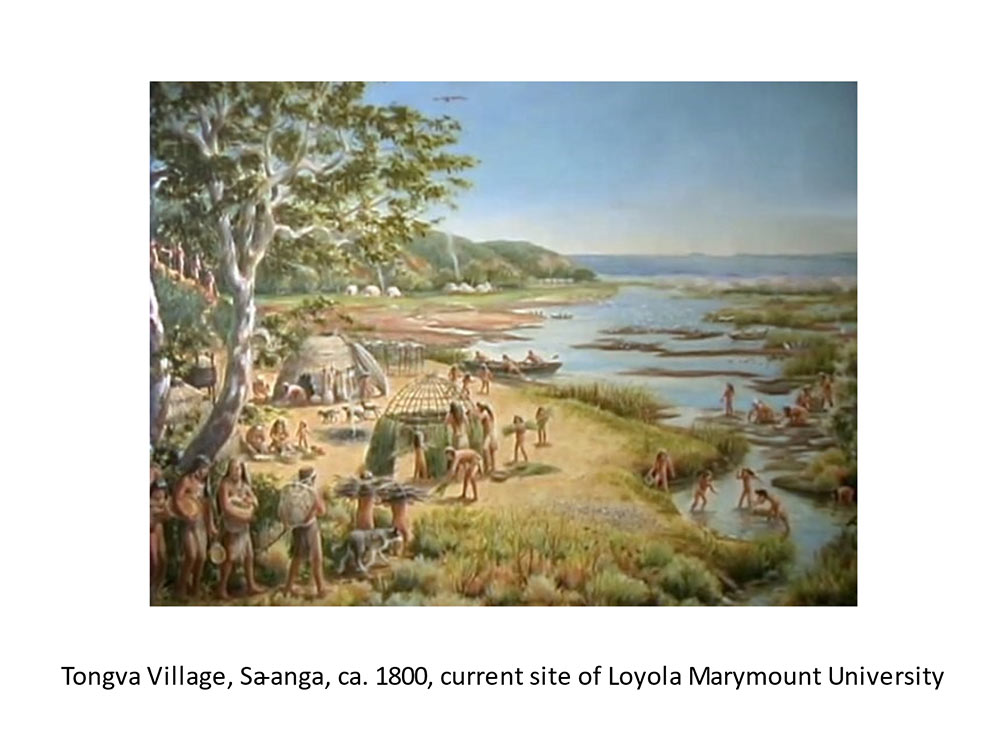 This map shows the Channel Islands and the areas of indigenous settlement. Each community spoke its own language.
EUROPEAN SETTLEMENT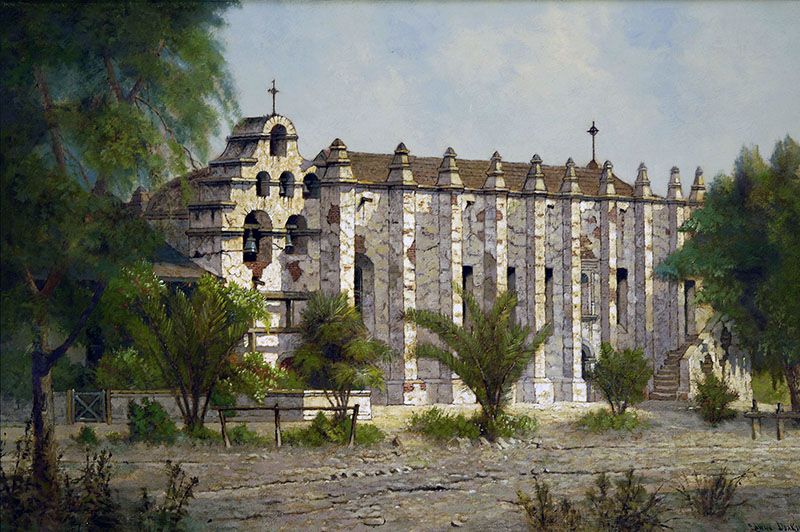 San Gabriel Mission, established 1771
The Franciscans monk Junipero Serra established 24 missions extending from San Diego in the south to Sonoma, beyond San Francisco in the north. They captured indigenous peoples, forcing them to create European style farms and ranches. They converted them to Christianity and required them to adopt European clothes and stop speaking their own languages. Many died. When the United States seized California from Mexico in 1848, a bounty was paid for Indian scalps. For over a century, Indian children were taken from their families and sent to boarding school, further severing ties with language and culture. No indigenous languages remain intact in Southern California.
One of the oldest religious institutions in Los Angeles dates from the 1890s, the Vedanta Society of Southern California. Swami Vivekananda lectured in Los Angeles as part of his world tour following the Parliament of the World's Religions which convened in Chicago in 1893. He stayed in nearby Pasadena, where he edited his lectures on Raja, Karma, Bhakti, and Jnana Yoga which still remain in print.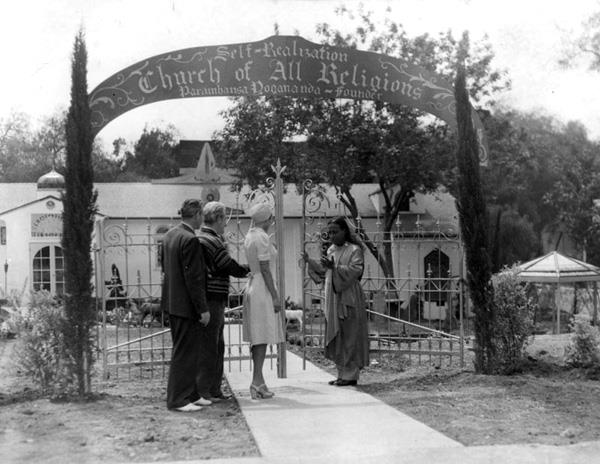 Paramahamsa Yogananda moved to the United States in 1920. Shortly after his arrival, further immigration to the U.S. was ended for people of Asian origin. Consequently, he built a new form of congregational religious practice. Whereas in India it is common to drop by a temple or shrine on a daily basis, regardless of one's faith, religious life in America generally takes place on Friday night and Saturday for Jews who observe the Sabbath and on Sundays for Christians. Hence, Yogananda built a half dozen chapels in Southern California that continue to hold Sunday services, adorned with images of himself, his guru Sri Yukteshwar, his Guru's Guru Lahiri Mahasaya, Babaji, Krishna, and Jesus. His Autobiography of a Yogi remains a top selling book, a "Bible" of sorts to Steve Jobs and many others. Some of his early followers converted to Yoga spirituality from the Mormon faith (Church of Latter Day Saints), which arose in upstate New York in the middle of the 19th century, as did the Seventh Adventists, a vegetarian denomination, each of which has a robust presence in Los Angeles. The Self Realization Fellowship Lake Shrine contains ashes of Mahatma Gandhi, who took initiation from Yogananda.
AFRICAN AMERICAN RELIGION IN LOS ANGELES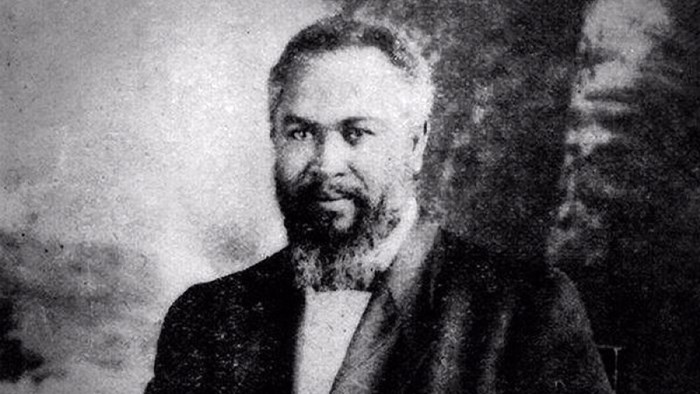 California gained statehood in 1850 as a free state. No slavery was allowed, though many indigenous peoples, robbed of their land, remained effectively indentured. Freed former slaves helped build the cities of California, including William Seymour. He founded a church on Azusa Street in downtown Los Angeles that attracted large numbers of blacks, whites, and Chinese. The worship included parishioners falling into a swoon, speaking in tongues and singing exuberantly. His multi-ethnic denomination eventually gave birth to two forms of Pentecostalism: the white Assemblies of God and the black Church of God in Christ.
JUDAISM IN LOS ANGELES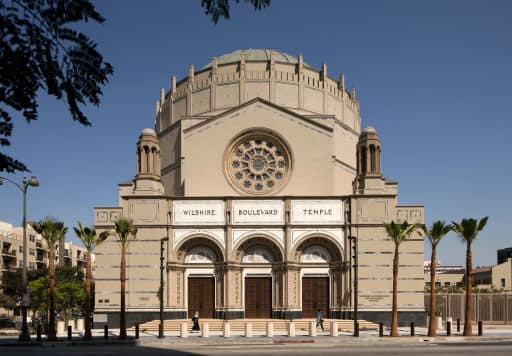 The Jewish community has a long history in Los Angeles. The second largest number of American Jews live in Los Angeles, after New York. All denominations can be found in Los Angeles, including Reform, Conservative, Orthodox, Ultra-Orthodox, and Hassidic. The Wilshire Boulevard Temple includes a museum of Jewish history.
CHRISTIANITY IN LOS ANGELES
Christianity differentiated into the Roman Catholic, Eastern Orthodox, and Coptic churches more than a thousand years ago. The remnants of the Roman Empire adhered to a trinitarian theology (Father, Son, and Holy Spirit). The church in western Europe as well in Byzantium to east, including the Eastern Orthodox churches of Greece, Ukraine, and Russia, adhere to this teaching on the threefold nature of God. However, the Egyptian Coptic church does not ascribe to this belief, claiming that God has only one nature. Each of these traditions retains houses of worship throughout various parts of Los Angeles, with more than 600 Roman Catholic parishes and numerous mainstream Protestant denominational churches such as Lutheran, Methodist, Presbyterian, Congregational, and Episcopalian.
ISLAM IN LOS ANGELES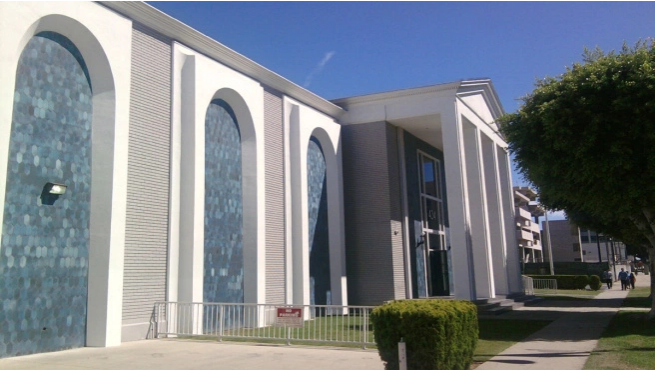 Because the first Muslim immigrants hailed from the Middle East and were therefore considered Caucasian, they encountered far fewer immigration obstacles than the Asians who were subject to blatant discrimination and exclusion. Hence, the Islamic Center of Southern California predates these other organizations, having begun in 1952. Muslims of all national origins and a large number of African American Muslims affiliated with the center. In the past few decades, more than 50 mosques have been established in Los Angeles County, many with specific linguistic and cultural affiliation.
BUDDHISM IN LOS ANGELES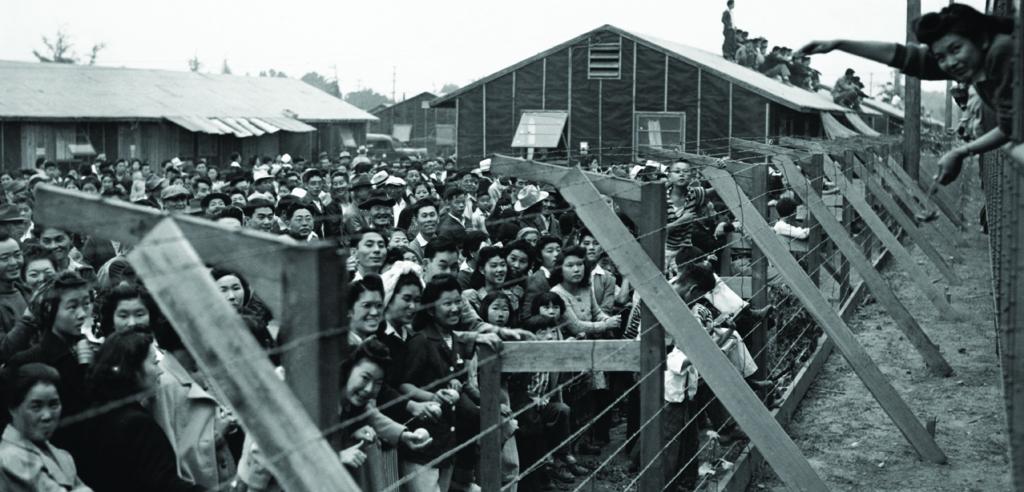 Buddhism entered California with the many Chinese laborers who worked in the gold mines and helped build the transcontinental railroad. Temples from the 1850s can still be found in rural communities such as Mendocino in Northern California. The once-thriving original China town in the old presidio was destroyed to build Union Station in the 1930s. However, anti-Asian sentiment restricted immigration with the passage of the Asian Exclusion Acts of 1880s. Even prior to this, Chinese women were generally denied entry into the U.S., creating a large community of Chinese bachelors. The Japanese community had great success in gaining admission into the U.S., primarily for farming in California and Hawaii. Because none of the Japanese islands had never been colonized, they were able to negotiate migration of intact families starting in the 1890s. However, after the bombing of Pearl Harbor in 1941, President Franklin Roosevelt ordered that all mainland Japanese be removed from their homes and sent to concentration camps, scattered in desert locales throughout the West. During the four years of their incarceration, nearly all Japanese American citizens lost their property and businesses. Without income, they were unable to pay taxes. Upon returning to Los Angeles, many of the Japanese Americans who had been successful farmers turned to horticulture. Their mark can still be seen in the many Zen-garden inspired landscape designs that still grace L.A. yards.
RELIGIOUS DIVERSITY
The Civil Right Movement changed the draconian anti-Asian laws of the 1880s and 1920s. In 1965 immigration was opened to persons from all nations of the world. Subsequently, large numbers of Indians, Chinese, Thais, Filipinos, and various other ethnicities settled in Los Angeles, many of them highly educated in the fields of medicine and engineering. Within a couple decades of their arrival, they established cultural and religious centers. These include several modern edifices crafted in traditional architectural styles, including the Wat Thai Buddhist Temple in North Hollywood, the Hsi Lai monastic complex in Hacienda Heights, the Hollywood Sikh Gurudwara, the Jaina Center of Southern California in Buena Park, the Venkateshwara Temple in Malibu, and the Kabir temple in Carson, depicted below.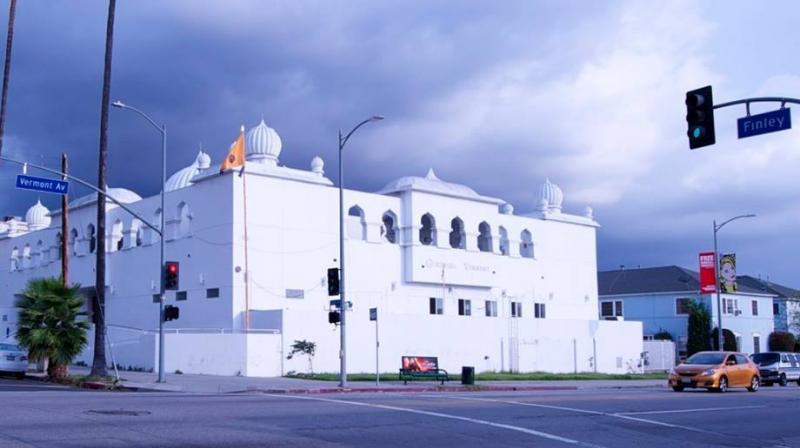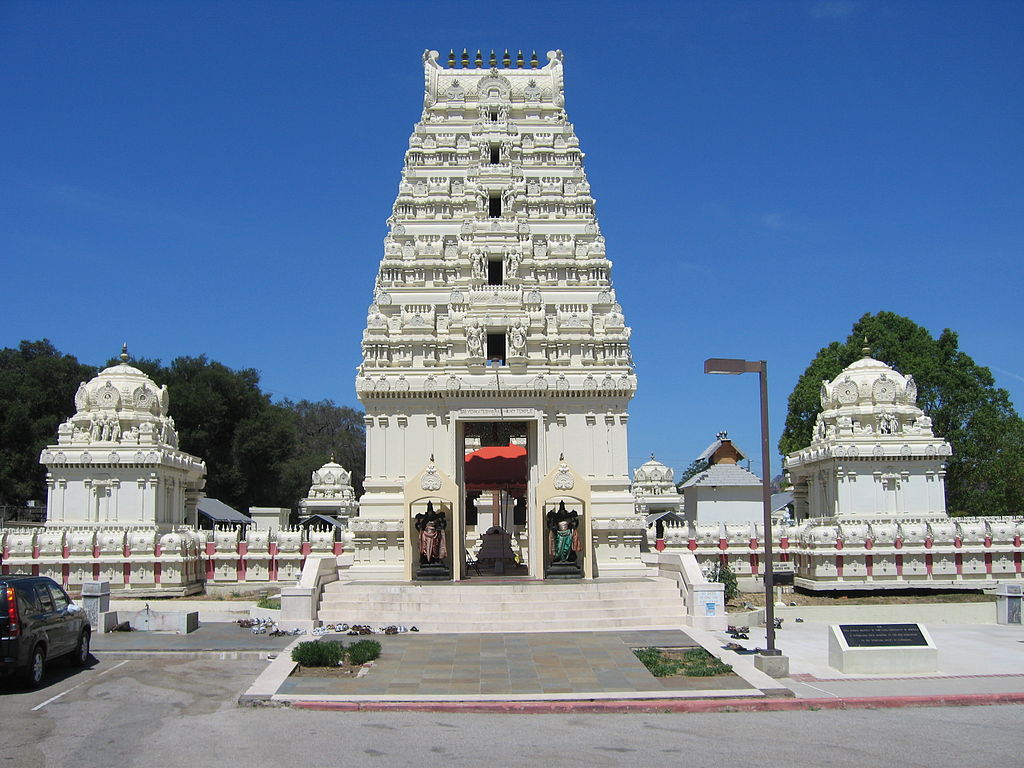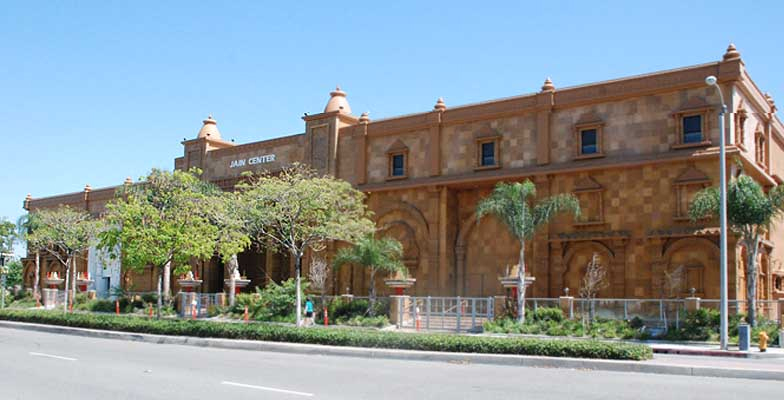 CONVERT RELIGIOUS DIVERSITY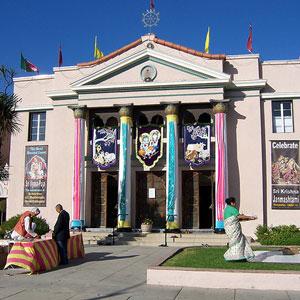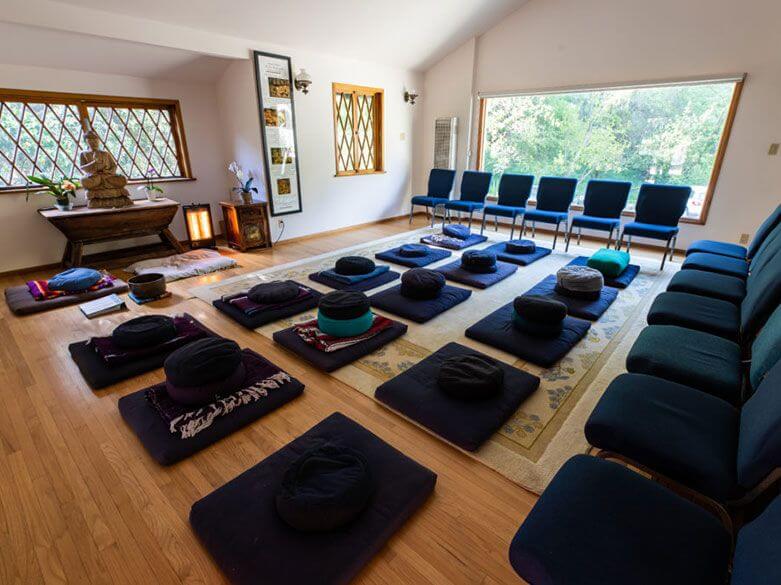 Another important feature of the Los Angeles County religious landscape can be found in "convert communities." During the counter-cultural period of the late 1960s, many disaffected youth took up alternative forms of spiritual practice, including the chanting of the Hare Krishna mantra, the practice of Transcendental Meditation, and various forms of Buddhist meditation, ranging from chanting nam myoho renge kyo or the silent sitting found in Zen and Vipassana. A second and third generation of followers, more recent converts, and immigrants from Asia as well as other countries can generally be found in each of these centers.
INTERFAITH COOPERATION AND COLLABORATION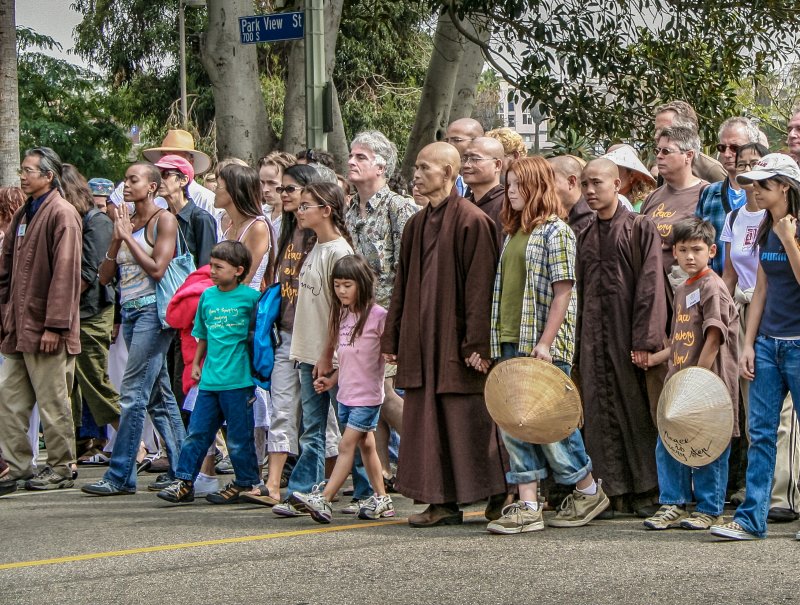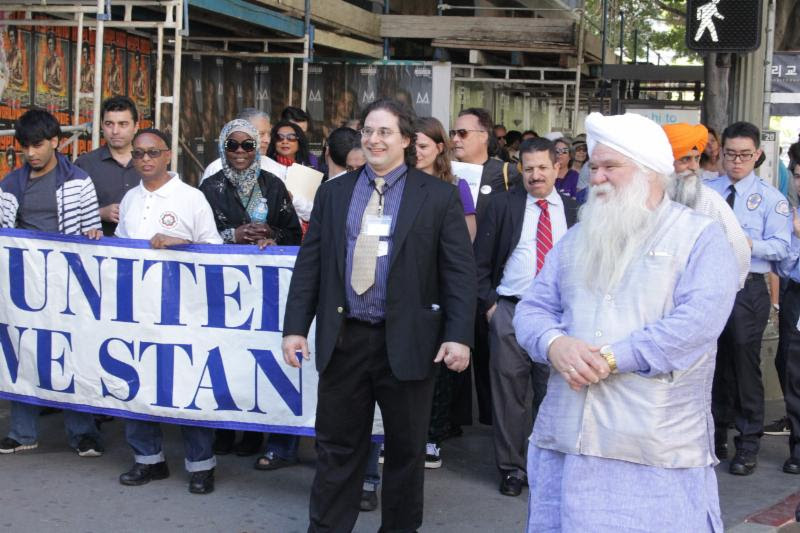 One feature of the diversity and plurality of religious institutions has been the emergence of robust intra-faith and interfaith conversations. Reverend Charles Cassasa, S.J., President of Loyola Marymount University and Rabbi Albert Wolf of the Wilshire Boulevard Temple pioneered a project of mutual exchange in the 1950s that continues through the work of the Martin Gang Institute. The Interfaith Council of Southern California, founded in 1969, includes members from the Hindu, Jewish, Buddhist, Christian, Muslim, Sikh, and Baha'i faith traditions. The Archdiocese of Los Angeles, under the guidance of Rev. Royale Vadakin (1938-2018), established a nexus of dialogue groups in the 1980s that assemble periodically. They continue to meet under the leadership of Rev. Alexei Smith.
Buddhists from Asian countries rarely had an opportunity to interact with one another until they settled in California. In 1980, a Buddhist Sangha Council was established with membership from different denominations and ethnicities, including American converts. As stated on their website: "The Council is composed of ordained monks, nuns and ministers from all the major Buddhist traditions: Theravada, Mahayana and Vajrayana, and from all Buddhist ethnic origins: American, Burmese, Cambodian, Chinese, European, Japanese, Korean, Laotian, Sri Lankan, Thai, Tibetan and Vietnamese."
The Southern California Committee for the Parliament of the World's Religions and many other organizations participate in a variety of activities such as the two marches depicted above. Universities in the region sponsor a variety of student groups devoted to religious and spiritual practice. For instance, the Office of Religious and Spiritual Life at the University of Southern California sponsors more than ninety such organizations and provides information on numerous interfaith activities throughout the region.
CONCLUSION
In this brief survey we have documented the diversity of faiths that can be found in the Los Angeles. Pre-colonial faiths and cultures were sadly eclipsed by the arrival of Europeans in the 18th century though some traditions are being revived. From the beginning, an array of faiths could be found in Los Angeles: Buddhist, Christian, Jewish, Hindu, and Muslim. With the growth of population came a diversification within each of these traditions. Buddhists practice an array of paths, including Theravada, Mahayana, and Vajrayana, hailing from a wide variety of Asian nations. Catholic, Eastern Orthodox, Protestant, and Evangelical Christians worship at thousands of local churches. As noted above, all aspects of the Jewish faith have found a home in Los Angeles. Sunni and Shi'ia Muslims from different parts of the world share the Ramadan fast in common and gather at denominational mosques each Friday at noon. Hindu temples honor specific deities and saints, from Krishna to Kabir.
Negotiating commonalities amidst differences has long been a hallmark of life in Los Angeles. In many ways, the presence of multiple faiths can help move a culture from tolerance to appreciation. Most neighborhoods are now ethnically and culturally diverse. The difficult legacy of American slavery resulted in exclusionary zoning which was not overturned until nearly one hundred years after the Civil War. Racial discrimination against Asians stood as a barrier to immigration for decades and resulted in an unjust incarceration of Japanese Americans in the 1940s. The past 50 years have brought many changes for the better. Mahatma Gandhi and Martin Luther King, Jr., both worked to bring about human freedom and dignity. Diversity helps us move toward that goal.
Bibliography of websites:
https://www.kwantaitemple.org/
http://www.urbandharma.org/ratana/ratana2/sanghacouncil.html
https://www.icsocal.org/
https://orsl.usc.edu/interfaith/la/
https://www.sangabrielmissionchurch.org/
https://lakeshrine.org/
https://news.ag.org/features/william-j-seymour-and-the-azusa-street-revival
https://www.wbtla.org/
https://saintsophia.org/
http://www.olacathedral.org/
http://www.islamiccenter.com/
https://vhbt.org/
https://www.watthailosangeles.com/
http://www.hsilai.org/
https://hollywoodsikhtemple.org/
https://www.malibuhindutemple.org/
http://kabirtemple.org/
https://jaincenter.org/
https://www.iskconla.com/
https://insightla.org/
https://deerparkmonastery.org/
https://www.instituteforreligioustolerance.org/new-events/2020/9/13/virtual-interfaith-march-2020
Further Reading:
Cindy I-Fen Cheng, ed. The Routledge Handbook of Asian American Studies. New York: Taylor and Francis, 2016.
Philip Goldberg. American Veda: From Emerson and the Beatles to Yoga and Meditation, How Indian Spirituality Changed the West. New York: Three Rivers Books, 2010.
Article by Prof. Christopher Key Chapple