Abstract:-

Delving into its lanes and by-lanes, nooks and crannies, Rana Safvi unravels layers of the city and of its people; this is a history that is alive with the footsteps of people, as of time. Emperor Shah Jahan gave orders for the building of a new city on the banks of the River Yamuna in 1639. At the heart of it was a fort (Qila-e Mubarak) built on the theme of paradise. In 1648 he illuminated the fort that had been likened to Firdaus:

Agar Firdaus bar ru-ye zamin ast Hamin ast-o, hamin ast-o, hamin ast If there is Paradise on earth It is this, it is this, it is this

There had already existed habitation in this area as it had been part of the fifth city of Delhi, named Firozabad and many pre-Mughal buildings such as mosques and tombs existed. It became a palimpsest as successive Mughal rulers expanded it. This city saw the First War of Indian Independence and emerged much the worse from it. Many of its famous monuments were destroyed and replaced. Today, the Chandni Chowk Redevelopment Plan has breathed new life into the area and though we can never go back to the days of its glory it is no longer a tangle of traffic.
Ms. Rana Safvi is a teller of stories of and from the city of Delhi. Delving into its lanes and by-lanes, nooks and crannies, she unravels layers of the city and of its people; this is a history that is alive with the footsteps of people, as of time. Drawing upon her extensive walks in the old city, and referencing a host of archival and academic works on Delhi, Safvi's narration brings alive the many facets of a fascinating capital city. This conversation is based upon her presentation at the Distinguished Speaker Series Seminar, The Past in the Present: Delhi's Two Imperial Capitals, held at JDMC, where she spoke about her book, Shahjahanabad: The Living City of Old Delhi, HarperCollins India, 2019.
We are sure this conversation would lead you to her many other books, which carry myraid tales of Delhi, its environs, its emperors and its peoples.
New dynasties, new capital cities
The Mughal dynasty was established by Babur (1483–1530) in 1526, after defeating Sultan Ibrahim Lodi. He ruled for four years with Agra as his capital but did not build any capital city. He was succeeded by his son Humayun (r. 1530–17 and 1540). Emperor Humayun shifted his capital to Delhi and started to build his palace there that he had named Din Panah. He could not complete it and had to flee India after Sultan Sher Shah defeated him. Sultan Sher Shah expanded Din Panah, which he renamed Sher Shah Garh: today that area is known as Purana Qila.
The next two emperors, Emperor Akbar and Emperor Jahangir, preferred to rule from Agra and they fortified and extended the Agra Fort.
Shahjahanabad: the splendour of the Empire
Emperor Shah Jahan came to the throne in 1628 and found that the Agra and Lahore Fort were not spacious enough to accommodate the retinue of the dignitaries attending court, and decided to shift his capital to Delhi. He made several visits to the area himself and finally, on the advice of ulemas, saints and astrologers, he finalized the present location, between Firozabad and Din Panah, for his Qila and laid the foundation
According to Muhammad Waris's Padshahnama, the foundation of the Qila-e Mubarak (now called Red Fort) was marked on 29 April 1639.
The city of Shahjahanabad, that we today call Old Delhi, was built around this Qila.
Pre-Mughal Shahjahanabad
There had already existed habitation in this area as it had been part of the fifth city of Delhi, named Firozabad and many pre-Mughal buildings such as mosques and tombs existed.
There were pockets of previous habitation in the area near Shah Turkman's khanqah(hospice). Near Shah Turkman's dargah is Sultan Raziya's (reign AD 1236–40) grave. According to Sir Sayyid, she was buried by the saint himself in his khanqah. Today his khanqah is reduced to just the area of his shrine and Sultan Raziya's grave is close by in the area known as Bulbulikhana.
Chitli Qabr (near Matia Mahal), the dargah of the thirteenth-century saint Syed Roshan Shah was also present before Shahjahanabad was built. A mosque built in Firoz Shah Tughlaq's reign known as Kalan Masjid still stands tall within the walled city, near Turkman Darwaza. It is more or less in its original form and, unlike other mosques of such antiquity, is still in use.
This area also housed Salimgarh Fort built on an island in the River Yamuna by Salim Shah (AD 1545–54) also known as Islam Shah, son of Sher Shah Sur.
Going further back in time, the Neeli Chhatri temple on the Nigambodh Ghat, which is said to date back to the legendary Pandava period, had a pavilion made by Emperor Humayun to which Emperor Jahangir added a verse. The Mughal pavilion doesn't exist any more, but the temple famous as Neeli Chhatri is very popular today.
Architects, planners, builders
According to Muhammad Waris's Padshahnama (translated by Prof. S. Ali Nadeem Rezavi), the foundation was marked on 29 April 1639, and the foundations of the fort were laid by expert diggers on the night of Friday, 9th Muharram, 23 Urdi Bihisht (12 May 1639).
It was done under the supervision of Izzat Khan, who later became the subedar of Sind.
The services of Ustad Ahmed Lahori and Ustad Hamid, two expert architects who had been involved in the construction of the Taj Mahal, were utilised.Izzat Khan had the foundations dug up in five months and two days, when he was replaced by Allah Vardi Khan. Allah Vardi Khan took two years, one month and fourteen days to construct a 12-yard-high wall all around the Qila. He was then appointed as subedar of Bengal, and Mukaramat Khan took over from him. In the twentieth year of Emperor Shah Jahan's reign, the Qila was complete. According to Padshahnama, the total expenditure on these buildings was rupees 60 lakh.
It took nine years to build the Qila and Emperor Shah Jahan entered the Qila for the first time through the Khizri Darwaza (he had come by the river route) on 18 April 1648.
Walls and Gates
Shahjahanabad was a walled city, a name by which it is known even today. The wall that ran around the city was built first with mud and then rubble plaster. It was approximately 9-km long, with thirteen gateways, or darwaza, and fourteen khirkis or wicket gates, through which one could enter the walled city. The wall, as can be seen in some of the places where it survives, had battlements. There were twenty-seven bastions.
The northern wall of the wall had Kashmiri Darwaza, which saw much action in 1857 and has been cordoned off today as a historical monument.
The western wall had Kabuli Darwaza, Lahori Darwaza, Ajmeri Darwaza and Farrashkhane ki khirki. From among these, only Ajmeri Darwaza exists near the New Delhi railway station.
The southern wall had Turkman Darwaza and Dilli Darwaza, both of which are standing strong.
The Rajghat Darwaza, Khairati Darwaza, Calcutta Darwaza and Nigambodh Darwaza were river-facing, and none remain, though Rajghat is famous as the Samadhi or memorial of Mahatma Gandhi, and Nigambodh Ghat is known for its cremation ground and crematorium.
None of the wicket gates remain. Those were all broken down when the British rearranged the city after 1857.
Matters of water supply
Since, water is essential for the well-being of any populace, the canal built by Sultan Firoz Shah Tughlaq was revived. This canal, which took water from the River Yamuna, had fallen in disuse. It was extended to from Safidon (in present-day Haryana) to Khizrabad (present-day Defence Colony) under Emperor Akbar, and rejuvenated and brought to Shahjahanabad under Shah Jahan's orders. It was completed by Ali Vardi Khan at the same time as the Qila.
One branch flowed down to Chandni Chowk and then Faiz Bazar (modern-day Daryaganj), and the second branch came into the Qila at its northeast end. The branch in the Qila was known as Nahr-e Bahisht, and the one in Chandni Chowk as Faiz Nahr.
City-spaces: the lived experience
The city housed the famous Jama Masjid, the moonlit boulevard ChandniChowk, the Begum kaBagh, designated kuchas and mohallas for artisans, traders and skilled workers. Land was given to royal princes and nobles to construct their mansions. One very grand mansion was DaraShukoh'shaveli the remnants of which stand near Kashmiri Darwaza today.
As Emperor Shah Jahan'sfavourite son, Prince DaraShukoh built his haveli here when the city was being constructed. It was called Manzil-e Nigambodh, after the ghat on which it was located. He built his magnificent mansion at the cost of rupees 400,000, between 1639 and 1643. Between 1803 and 1842, the British Residents used it as a Residency. From 1842 till 1858, it housed the classrooms of the Delhi College and the residence of the Principal. In 1857, this building suffered great damage, and the principal of Delhi College, J. Taylor, was killed. After 1858, a district school was established here and later a government high school.
Today all that is left is a colonial building with Ionic pillars, but the mansion in its prime would have looked very different. Manzil-e Nigambodh, according to Prof. K.R. Qanungo, has been lost, and all we have is a building known as DaraShukoh's library on Delhi's Lothian Road inside Ambedkar University.
ChandniChowk: Princess Jahanara Begum designed this in AD 1650 as the most beautiful market square in the world. It was a 480-yard-long market with a 100-square-yard square, with a square pool in the centre. This square is called ChandniChowk. In Asar-us Sanadid, Sir Sayyid Ahmad Khan says, 'It's beyond my ability to describe its beauty and attraction. The evenings are magical here with the youth, princes and nobles coming here for an evening stroll and entertainment … There are very attractively built shops on both sides of the chowk, which sell all kinds of wares. There is nothing in the world, which is not sold here.'
Today it is a congested, overcrowded market with a divider instead of the stream that flowed here, and it is difficult to imagine that it was ever so beautiful.
Bazars, Sarais and Baghs
The Chandni Chowk area was historically divided into three parts from Lahori Gate to Fatehpuri Masjid: The Urdu Bazar, Jauhri Bazar and Fatehpuri Bazar.
The Urdu Bazar extended from Lahori Gate to the Kotwali (where Gurudwara Sisganj stands today). It housed soldiers, artisans and clerks of the Mughal Empire.The Jauhri or Ashrafi Bazar or jeweller's market was also a financial hub as financiers and moneylenders had their shops here. It extended 480 yards from the kotwali chabutra (Gurudwara Sisganj Langarkhana) till Chandni Chowk.
Beyond the Jauhri Bazar was a 100 yards octagonal market known as Chandni Chowk. Jahanara Begum designed this beautiful market square which was built in 1650 and called Chandni Chowk or moonlit square and had shops that sold unique objects d'art, textiles, attar, hookah bases made from porcelain or glass, wine cups, gems and jewellery.This extended to the Fatehpuri mosque and was known as the Fatehpuri Bazar. It was 560 yards long. The Fatehpuri Masjid was built by Nawab Fatehpuri Mahal Begum, one of the wives of Emperor Shah Jahan in 1650 when Shahjahanabad was being built. It is situated at the end of Chandni Chowk.
There were other beautiful bazars in front of the Qila such as Khas Bazar and Faiz Bazar, both of which don't exist today.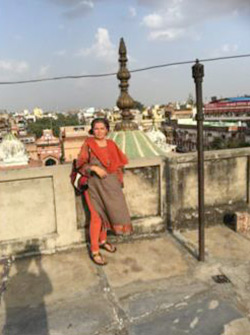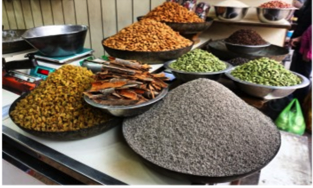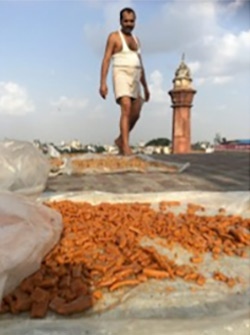 Khari Baoli: "This is said to be the biggest spice market of Asia. The entrance to the spice market is through an old gateway that probably belongs to Sarai Bangash, a sarai that was built in the later Mughal era. Bashiruddin Ahmad Dehlvi writes that the area 'is [in] the control of Lala Narain Das and is used as a godown and shops of grain trade. Its darwaza, which is on the road towards Bazar Khari Baoli, is very majestic. It is actually a building but called a darwaza and in front of it is an octagonal courtyard. There is no trace of the sarai.' Today the Gadodia Market, built by wealthy merchants in the 1920s, is accessed through this darwaza. It is a three-storeyed building built around a courtyard, with another building inside the courtyard. It is worth climbing up to the top of the building as it offers a view of the Fatehpuri Masjid and Chandni Chowk.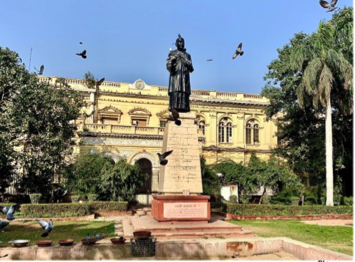 Begum ki Sarai, now Town Hall: A beautiful sarai, perhaps the most beautiful of its time in India, was built near the Chandni Chowk, or Moonlit Square in AD 1650 by Jahanara, the emperor's powerful daughter. One entered into a courtyard in which there were two wells and a mosque. All around the courtyard was a double-storeyed building with bastions on its corners. There were ninety rooms on both levels, with a balcony running around it on the top floor and a terrace on the first. This can only be seen in Mazhar Khan's illustrations. After 1857, the British government demolished it; a Town Hall was built in its place later.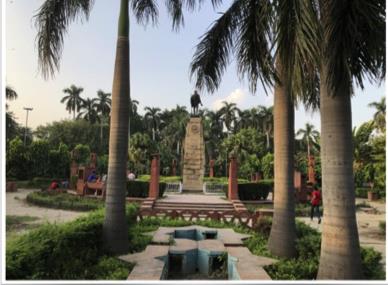 Begum ka Bagh: This was built by Princess Jahanara Begum in Chandni Chowk. It had many pavilions and cupolas for sitting and enjoying that were demolished in 1857 itself.
The canal used to flow through it. It had beautiful mansions, pleasure gardens and baradaris. It was renamed Queen's Garden after 1857, and a statue of Queen Victoria used to stand here. Today a statue of Mahatma Gandhi stands here, and it is known as Mahatma Gandhi maidan.
Roshanara Bagh: The foundation of this garden was laid in 1650 when Emperor Shah Jahan was building Shahjahanabad. Emperor Aurangzeb's younger sister Princess Roshanara Begum built this garden. "She died in AD 1671 and was buried in a simple grave in this same garden in a once-upon-a-time beautiful pavilion. The building still stands, but looks very forlorn with its fading paintings and peeling plaster.
In 1917, a cricket pavilion and field was made here – the garden was divided into two by the British. It was named after the deputy commissioner, H.C. Baden, by the Delhi municipality. Today it is famous as the Roshanara Cricket Club.
The part with the grave is a park, popular with walkers and yoga practitioners.
Abode of the Gods
Jama Masjid: This was the Badshahi or the imperial mosque, built on the orders of the emperor himself. The location chosen was a hillock called Pahari Bhojala, at a distance of 1,000 yards (0.91 km) from the Qila. The mosque was planned in such a way that it would cover the hillock in its entirety.
The mosque, set on a plinth of 30 feet, is 261-foot long and 90-foot wide. Its three marble domes with black stripes are a landmark, a symbol of Shahjahanabad if you will, and visible from miles around.Thus, it was appropriately named Masjid-e Jahannuma – a mosque that commands a view of the world.
Since the mosque had been such a symbol of togetherness and rebellion against British power in 1857, after the Uprising, the British occupied it and stopped people from offering prayers within its premises and plans were passed to convert it into a barracks. After five years, on 28 November 1862, following innumerable petitions by Muslims, the government returned the mosque to the Muslims.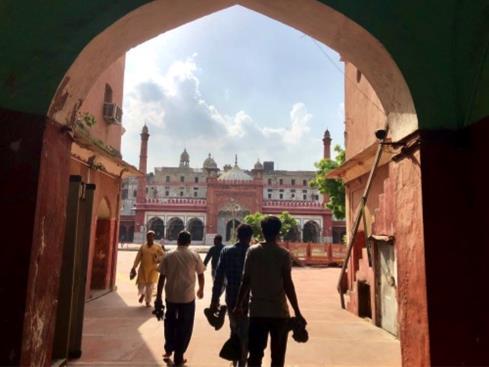 Fatehpuri Masjid: Also known as Nawab Fatehpuri Mahal Begum, this mosque was built by one of the wives of Emperor Shah Jahan, in AD 1650, when Shahjahanabad was being built. It is situated at the end of Chandni Chowk. As one steps into the courtyard, the first thing that catches the eye is the pretty white dome with its longitudinal green stripes and green lotus finial. Originally these stripes were black. A masonry finial crowns it. Though the dome is not of marble but red sandstone, it has been plastered so beautifully that it gives the impression of being marble from far. Red battlemented parapets run all along the roof in front of the dome.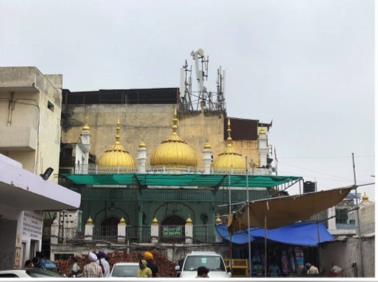 Sunehri Masjid: Khwajasara Javed Khan built this beautiful mosque in AD 1747 on orders of Nawab Qudsia Begum.The mosque is surmounted by three domes, which were originally gilt with copper plates, from which it derived its name.
It's an excellent specimen of the later Mughal architecture. Before the Uprising of 1857, it was in the middle of habitation, but the British levelled these houses when they tried to create an open space around the Qila in order to control the area better.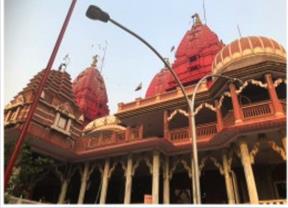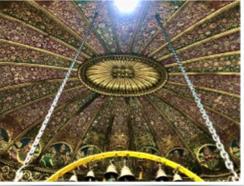 Shri Digambar Jain Lal Mandir/Urdu mandir is the oldest and best-known Jain temple in Delhi. It is directly across the Red Fort at the beginning of the Chandni Chowk area. Its red shikhars or steeples can be seen from afar, and it is a must-visit. When Emperor Shah Jahan built the Qila-e Mubarak, he also invited several Agrawal Jain merchants to come and settle in the city and granted them some land south of the Chandni Chowk, around Dariba Gali. He had many Jain soldiers in his army too.
One of the Jain soldiers kept an idol of Tirthankar Parsvnath in his tent, which was opposite the Fort's Lahori Gate. This idol was from AD 1491, and all the Jain soldiers worshipped it. Because it was a temple belonging to the army camp – it was called Urdu Mandir (as this area was called Urdu Bazar camp market) and also Lashkari Mandir, or Army Temple.
Neeli Chatri:This was the place where Raja Yudhisthira performed the ashvamedha sacrifice and did the havan. Even today, there is a havan here that is kept going constantly, with continuous chanting by priests.When I went there and made the chadhaava (offerings to the gods), the priest put a tilak on my forehead and blessed me. I automatically replied, 'Inshallah!' He looked at me, surprised, then nodded and said, 'Yes.'
Neeli Chhatri lies between the Nigambodh Ghat and the Bahadur Shah Gate of Salimgarh.
There are no remains of the temple that is said to have been made by the Pandavas – the building is new, with blue tiles.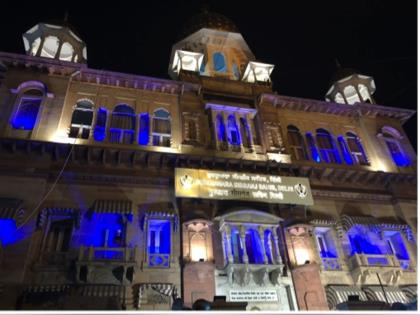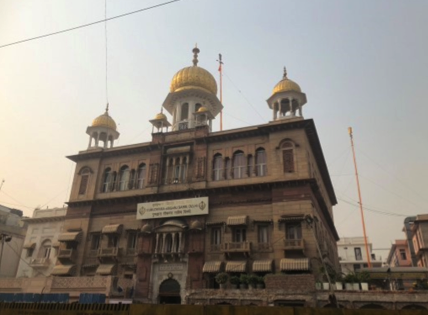 Gurudwara Sis Ganj: This gurudwara was built in AD 1675 on the spot where Guru Tegh Bahadur was executed on the orders of Emperor Aurangzeb on his firm refusal to convert to Islam. The famous KotwaliChabutra (courtyard) of the Mughals where the Guru was imprisoned is now the langar hall of the gurdwara. The Northbrook Fountain is built on the spot where the Guru's associates, Bhai Mati Das, Bhai Sati Das and Bhai Dyala, were tortured and killed. There is now a museum on Sikh history here, built in their memory.
The kotwali was again the scene of some horrific events in 1857. It was on this Chabutra that the bodies of Emperor Bahadur Shah Zafar's sons and grandsons were displayed for three days after Major Hodson shot them dead. Later, a gallows was put up here by the British, and long lines of condemned Indian men stood here waiting for their turn to be hung, seeing the agony of the men dying before them.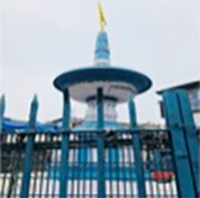 Bhai Mata Chowk/Northbrook Fountain: It was built in 1872–76 at the cost of rupees10,000, paid for by Lord Northbrook.This place is now called Bhai Mati Das Chowk to honour the Sikh martyr who was executed at this spot on Emperor Aurangzeb's orders. A railing encloses the fountain itself and a small shrine to the martyrs has been built facing the gurudwara.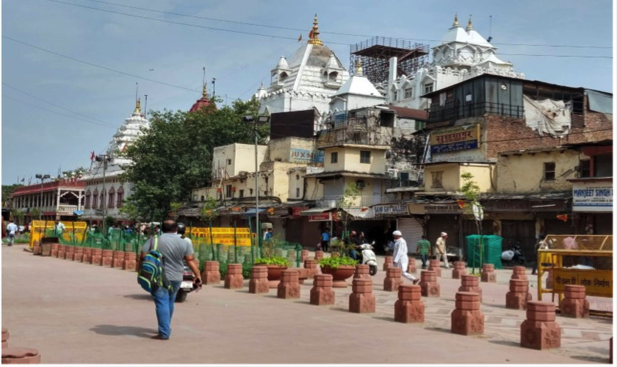 Gauri Shankar Mandir: Said to house an 800 year old shivling, the Gauri Shankar mandir is also famous as Appa Shankar Mandir because Appa Shankar who was a Maratha Brahmin in the service of the Scindias got it built. This was the only monument built by the Mrathas during their brief supremacy in Delhi.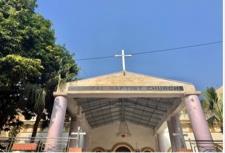 The Baptist Church is on the main Chandni Chowk Road and is a functioning church built in the style of European architecture. The Baptist Missionary Society of London bought some land in the southern part of the Red Fort in 1792 and built a church on it. This was destroyed during the 1857 Uprising and the present church in this location was then built in 1860. It has beautifully inscribed verses from the Bible in Urdu."
St. James Church: "Colonel James Skinner (1778–1841) built this church on Lothian Road. Skinner, a mercenary, was the son of a Scottish father and Rajput mother. When he lay wounded in the battle of Uniara in 1800, Skinner had vowed that he would build this church if he survived. Built at a cost of rupees 95,000 from his own funds, the Church took ten years to build and was consecrated in 1836. The walls bear memorial plaques for the Europeans and Indian Christians killed during the First War of Independence.
It was at this church that successive viceroys attended Sunday services from 1911 till 1935.
In 1857 during the Uprising and Siege of Delhi, it was this city and Qila that was used by the Indian sepoys fighting the British forces. After the Fall of Delhi on 14th Sept. 1857 some of the buildings were destroyed, while many changed character. A town hall came up in 1863 in place of the Begum kiSarai, built by Jahanara Begum, while the Begum kaBagh named after her became the Queens Garden. Today it is known as Mahatma Gandhi Maidan.
Today, the Chandni Chowk Redevelopment Plan has breathed in new life into the area and though we can never go back to the days of its glory it is no longer a tangle of traffic.
Bulbulikhana is an area in Old Delhi near Turkman Darwaza. This is described in Rana Safvi, The Forgotten Cities of Delhi, Part II of the trilogy Where Stones Speak.New Delhi: HarperCollins, 2018.
The second month of the solar Hijri calendar, the official calendar of Iran and Afghanistan, used as reference in Mughal-era Persian documents.
Bibliography:
Syed Ali Nadeem Rezavi, (transl.) "The Mighty Defensive Fort: Red Fort at Delhi under Shahjahan – Its Plan and Structures as Described by Muhammad Waris," Proceedings of the Indian History Congress, 71 (2010–11): 1108–21. Retrieved from https://www.jstor.org/stable/44147579?seq=1#page_scan_tab_contents
Jain, Balbhadra. Bharat ke Digamber Jain Tirth. Nashik: Bharat Varshiya Digamber Jain Tirthkshetra Committee, 1974; MaulviZafar Hasan, Monuments of Delhi.Vol. 1. New Delhi: Aryan Books, 2008 (1916);
Dehlvi, Waqiaat-e-Darul Hukumat Dehli. Delhi: Urdu Academy, 2012.
Axworthy, Michael. The Sword of Persia Nader Shah: From Tribal Warrior to Conquering Tyrant. London & New York: I.B. Taurus, 2009. Azad, Maulana Abul Kalam.
The Rubaiyat of Sarmad. Translated by Syeda Saiyidain Hameed. New Delhi: ICCR, 1991.
Aziz, Sadia. 'Mosque, Memory and State: A Case Study of Jama Masjid (India) and the Colonial State c. 1857'. M.Phil Dissertation, University of Delhi.
Beg, Sangin. Sair-ul Manazil. Translated into English by Nausheen Jaffery, edited by Swapna Liddle. New Delhi: Tulika Books,
Blake, Stephen P. Shahjahanabad: The Sovereign City in Mughal India 1639–1739. Cambridge South Asian Studies 49. Cambridge, MA: Cambridge University Press, 2002.
Chenoy, Shama Mitra. Shahjahanabad: A City of Delhi 1638–1857. New Delhi: Mun-shiram Manoharlal, 1998.
Dayal, Maheshwar. Alam Mein Intikhab Dilli. Delhi: Urdu Academy, 1978. Dehlvi, Bashiruddin Ahmad.
Waqiaat-e-Darul Hukumat Delhi. Delhi: Urdu Academy, 2012.
Dehlvi, Mirza Farhatullah Beg, ed. Rasheed Hasan Khan, Dehli ki Aakhiri Shama, New Delhi: Anjuman Taraqqi Urdu (Hind), 2015.
Dehlvi, Syed Wazir Hasan. Dilli ka Aakhiri Deedar. Edited by Syed Zameer Hasan Dehlavi, Delhi: Urdu Academy, 2006. (Also see the edition edited by Shahid Ahmed Dehlavi. Delhi: Dilli Printing Press, 1934.)
Dehlvi, Zahir. Dastan-e Ghadar: Tale of a Revolution. Translated by Rana Safvi. : Penguin Random House India, 2017.
Fanshawe, H.C., Delhi Past and Present. New Delhi: Asian Educational Services, 2002 (1902, reprinted).
Fergusson, James. History of Indian and Eastern Architecture. London: John Murray, 1876
Gupta, Narayani, Delhi between Two Empires 1803–1931: Society, Government and Urban Growth. New Delhi: Oxford University Press, 1997.
Hasan, Maulvi Zafar. Monuments of Delhi, Vol. 1. New Delhi: Aryan Books, 2008 (1916).
Hearn, Gordon Risley. The Seven Cities of Delhi. London: W. Thacker & Co., 1906.
Hussain, S. Mahdi. Bahadur Shah Zafar and the War of 1857 in Delhi. Delhi: Aakar Books, 1958.
Jain, Balbhadra. Bharat ke Digamber Jain Tirth. Nashik: Bharat Varshiya Digamber Jain Tirthkshetra Committee, 1974.
Khan, Sayyid Ahmad. Asar-us Sanadid (The Remnants of Ancient Heroes). Translated by Rana Safvi. New Delhi: Tulika Books, 2018. Originally published in Urdu in 1867.
Koch, Ebba. Shah Jahan and Orpheus: The Pietra Dure Decoration and the Program of the Throne in the Hall of Public Audience at the Red Fort in Delhi. Graz, Austria: Akademische Druck-u, 1988.
Sanderson, Gordon. Delhi Fort: A Guide to the Buildings and Gardens. Delhi: Asian Educational Service, 1914.
Spear, Thomas George Percival; Narayani Gupta. The Delhi Omnibus. Edited by R.E. Frykenberg. New Delhi: Oxford University Press, 2002.
Stephen, Carr. Archaeology and Monumental Remains of Delhi. Ludhiana: Mission Press, 1876.